Welcome friends! This is the home of Saints Eleven!

After four potent album releases, 14 charted radio singles, winning the 2019 TCMA award for "Country Band of the Year", a slew of virally intensive music videos and regular co-bills with many of the top artists in the scene, Lead singer & guitarist Jeff Grossman says "we are just getting started...".
1.11.2021.  Self produced and shot in Denton, TX at Pandhandle House Studios here is our latest single and Music Video for "My Home Is"!! Hope y'all enjoy we had a lot of fun making it for you!! 
3.27.2020.  Well it's finally here you guys!! So with all the stuff that's going in the world and a lot of people out of work...we've decided to give this album away for FREE!! Just CLICK HERE to download your FREE copy now!!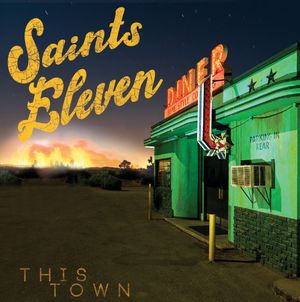 Keep your hard earned money for yourselves and your family in this time of need!! We love you guys!!
HERE is the link if you prefer to stream your music just please "Subscribe" or "Follow" us!!
Thanks y'all and enjoy!! - Saints Eleven -
3.21.2020.  Today we are more than excited to release our NEW MUSIC VIDEO for our first single "Love in Hell" off the SOON TO BE RELEASED Album 'This Town'!! Couldn't have turned out any better!! A huge thank you to everybody that put in all the hard work on this!! Actors - Kelsey Pribilski & Zack Scott, Director- Drake Howard, Producer- Ima Gene Loop, Photography- Taylor Camarot, Editor- Drake Howard, Gaffer- Peter Klemek, Catering- Taylor Diaz, Production Assistant- Melanie Schanke and Art Production Assistant Sarah Aguilar.....Special thanks to Aduro Studios & Film in Austin Texas!! Thanks again and hope ya'll enjoy!!  
-Saints Eleven-
1.26.2020. Today we are extremely proud to release our NEW SINGLE "Love in Hell" off our upcoming album "This Town"!!! We couldn't be more proud of the way it turned out and want to give a big shout out to Erik Herbst and the whole crew over at Panhandle House Studios in Denton, TX for helping us make this incredible record come to life!!! We really hope you guys enjoy it as much as we enjoyed making it!! You can help us out by SHARING this with the world!! Thanks y'all! So without further ado we give you..."Love in Hell" - Saints Eleven -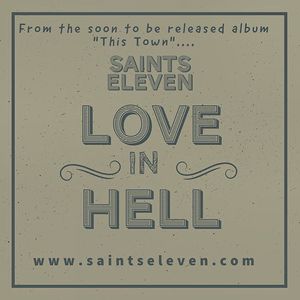 9.22.19. We are proud and honored to be named The Texas Country Music Associaton's 2019 "Country Band of the Year!!! Want to give a big thanks to all of our fans, friends, and family that have continued to support us over the last 8 years! It's been one hell of a roller coaster and we have a lot more in store for you in 2020! Stay tuned for updates and info on all the latest Saints Eleven news! Make sure to follow, subscribe, and like all of our social media outlets so you can be up to date with what's going on! Thank you so much to anyone and everyone who has helped us, supported us, "liked" us, subscribed, bought Merch, or came to a show! We truly appreciate it from the bottom of our hearts and couldn't do it without you!
-  Always and truly, Saints Eleven -